PILOT PHASE: Please note that this feature is still being piloted so this article will change over the coming weeks.
Instead of sending messages through Mail Chimp, you can send messages directly from your website.  And you can elect to send them by email, SMS or both (with SMS messages not being sent if the corresponding email is opened within a certain time-frame so that you keep your SMS bill low).
How to Send a Communication
When logged in as a web admin, click on Marketing - Communications and then click Send New Communication.
Alternatively, at the end of setting up a promotion, the final screen will give you a link to the Send New Communication screen and will automatically fill in some of the fields based on what settings you used for the promotion and when you set the promotion to start.
Targeting based on Subscriber's Browsing/Order History
You can send the message to everyone - or only to subscribers who have showed interest in specific categories, brands, products - or based on their previous order history.  The following screen shows the options (which are similar to the promotion set up admin screen) - and in this example, we are targeting a particular category of products ("Sub Category 1-2") and for subscribers who have ordered at least 3 times.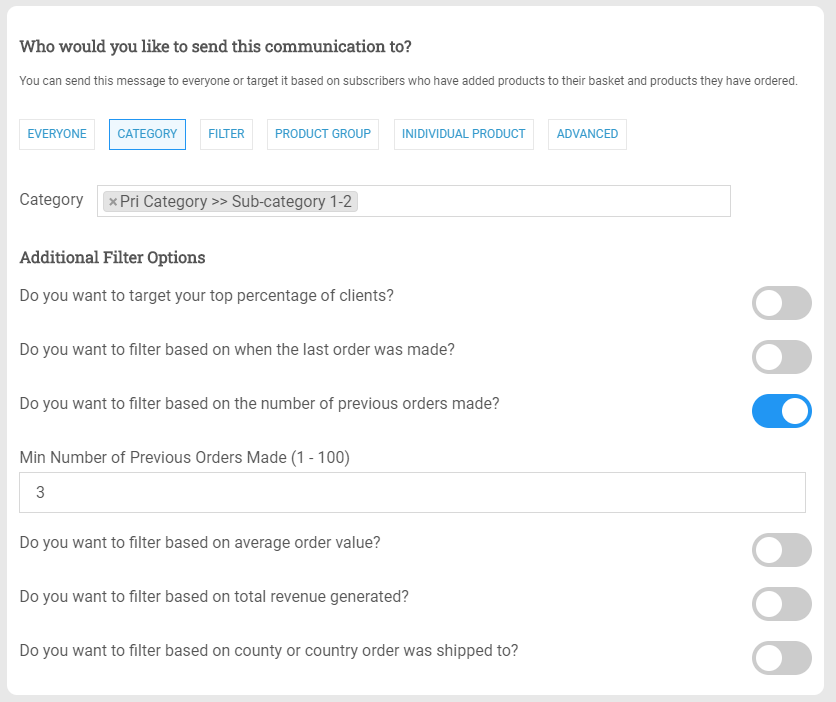 Selecting if sending through Email and/or SMS
You can then select how you would like to send the message - in this example, where the user selected SMS, a textbox opens up where they can enter the text to send and use "FIRSTNAME" where they want the subscriber's first name to go into.

Entering the time that the message is to be sent
You can then select if you want to send the message now or at a specific date/time - or you can come back later and click Deactivated if you change your mind before the messages are to be sent out.