Product refinements are filters that are displayed to your customer as they browse your shop website. They appear on the left hand side of the screen: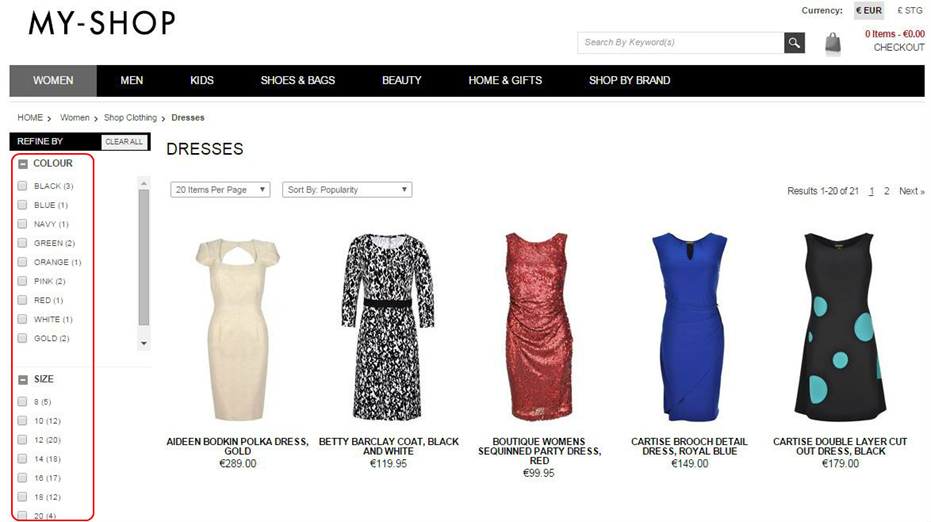 Refinements allow your customers to refine the product listing results based on specific product criteria.
Customers can refine their results by selecting criteria that fits their product needs, i.e. they can choose to search for products that fit a certain price range, type, size or colour etc. Based on the selections made by the customer, the product listing page will update immediately and display a list of suitable products.
Refinements are particularly useful when searching large product catalogues, reducing the need for the customer to navigate back and forth through multiple category levels when searching for products. The main objective here is to make it easier for a customer to find what they are looking for.
Do NOT have too many filters
Be careful not to have too many filters as it's hard to maintain your filters. For some websites, when a user goes onto the website and filters by, for example, the colour BLUE and gets 3 products back, when there are actually 15 blue products available in the store, they will leave the site thinking that the product range is poor -when the real issue was that these products were added to the website but the website admin did not assign them to the filter for BLUE.
Refinements work well for large catalogues of products but can have a negative effect on a small catalogue as they can limit the products available to the customer.
Different Types of Refinements
The following are the different types of requirements for your website:
Automated Refinements – The BRANDS filter and PRICE RANGE filter are automatically generated and displayed.
Automated Category Refinements – When viewing a category, the user can refine their view by other categories at the same level. For example, when they are looking at the TROUSERS category, they can also bring in other categories at the same level as TROUSERS to their view using their filters – such as JUMPERS, TOPS, etc. These filters are also automatically generated and displayed.
Custom Refinements – You can add your own refinements like COLOUR and SIZE.
Automated Version Mapped Refinements – You can also map your versions to a custom refinement. For example, if you set up a custom refinement group for SIZE and have 15 sizes in this group. And then you have, for example, 50 sizes in your VERSIONS table. You can map each of these 50 sizes to the 15 filters so that they automatically create a filter. NOTE that these refinements are only generated for products that are in stock – as customers get irritated when they are shown products that fit their size but are out of stock.