A Product Group facilitates the organisation and structure of similar product versions together.
In some cases, you will have multiple versions of the same product in your product catalogue, e.g. a dress that is available in 5 different sizes. Even though the dress comes in 5 different sizes, it is essentially the same product. Each version of the dress will have its own unique product code and entry in the product database.
So rather than leaving the product versions standalone which would mean having to upload an individual product image and product descriptions for each one, you can group the product versions together under one product name (i.e. a parent product group).
From your customers perspective, they will look at the product on the website, see that it comes in different sizes. They will then choose the version that they would like to purchase: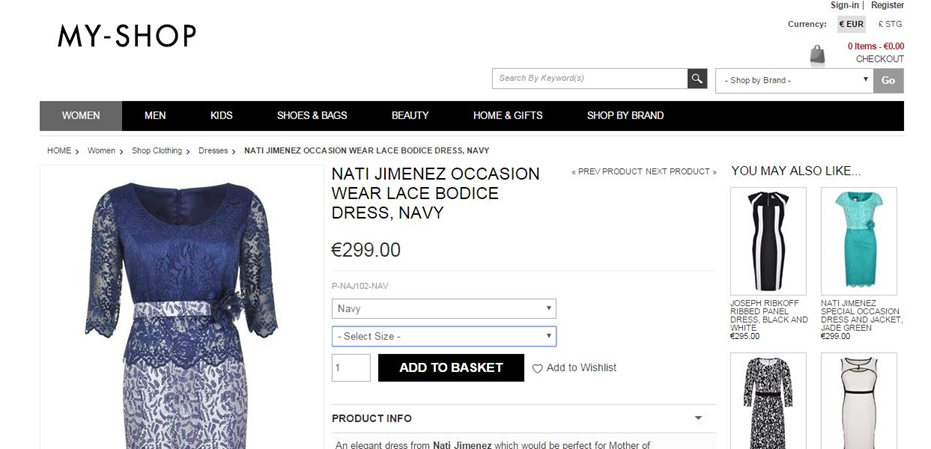 If you wish to leave your products as standalone products then you will not be required to create a product group.
When should you use versions?
Using versions is not necessarily a good way to merchandise your products so you should consider carefully what products on your website it will work for.
Versions may be a good option if you have a lot versions of the same product eg 25 shades of a foundation. These can crowd a product list page. Fashion websites should use versions for sizes as they will have products with many different sizes and they will pollute the website if they gave each size their own product
If you only have two or three versions of a product it may be better to leave these a standalone products
Version information often is not as searchable as product information.
Versions have some limitations eg
Lots of versions can make your catalogue look smaller. This may be more relevant to new online retailers as it takes time to grow your catalogue.
Best Practice for Colours
When you have products with different colours, you can either group them into one product – or have each colour as it's own product. The best practice is to have each colour as a separate product and not use versions for colours - this can give the colour better visibility on the website.