What are Abandoned Baskets?
There will be customers who will browse through your site, add some items to their basket. However for one reason or another they may never actually complete the order. This is very common, particularly in the Fashion Industry where customers will regularly create baskets on various sites but only complete the basket that offers them the best price, shipping costs or delivery terms. Alternatively they may change their mind and decide not to go through with the purchase.
How to Convert Abandoned Baskets into Orders
The following are the options that you can do for converting abandoned baskets into orders:
Manually contact them: Depending on how far the user got through the checkout, you may be able to contact them and ask them if you can help them complete the order. If the user got past the first screen at the checkout, you will have their email address. If they got past the next screen at the checkout, you will have their phone number and address details.
Automatically contact them: If you feel uncomfortable about doing the above, or don't have the time to do this, your platform level may allow you to have automatic emails sent to them after a certain time period giving them a link back to the site to complete their order or suggesting alternative options to them. (This is currently in Development for ab commerce customers and will be available early 2021, for more information contact Helpdesk)
How to view Abandoned Baskets
To view abandoned baskets, take the following steps:
Log into the site as a website admin.
Click ORDERS and the ABANDONED BASKETS sub menu option which will show all abandoned baskets.
Under the relevant order status in the left sidebar, a listing of all orders at this status will appear.
Click Update next to the order:

Details of the order will appear. In the Order Details tab the basic details about the order will be displayed, such as customer name, order date, order value etc: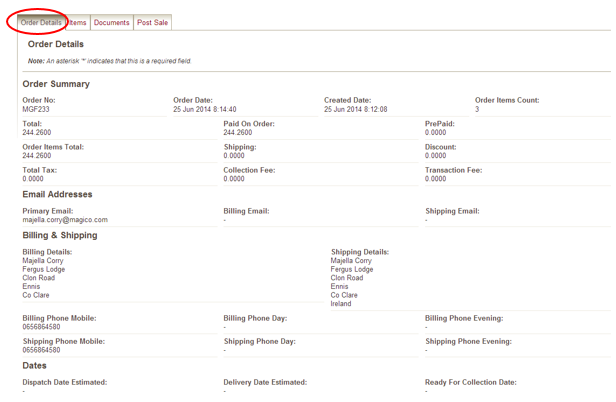 Click on the Items tab to see a listing of the items ordered:

Once you are finished reviewing the order click Cancel to exit the order review screen.