You can now enter commodity codes against your products which can be used for customs with the UK after 1st Jan 2021.
What are Commodity Codes?
Commodity codes classify goods for import and export so you can:
fill in declarations and other paperwork
check if there's duty or VAT to pay
find out about duty reliefs
How to enter a commodity code for a product
If you click UPDATE beside a product, you can enter a commodity code against the product using the following field: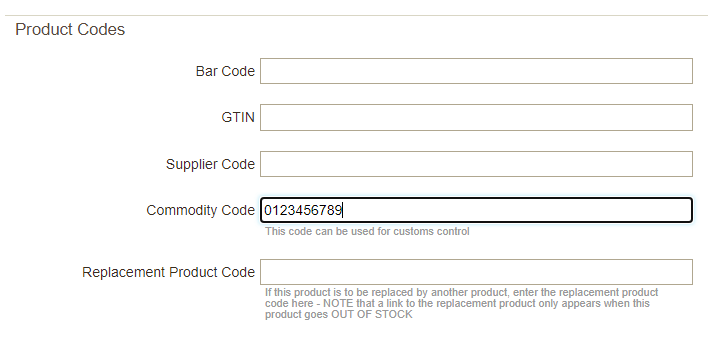 How to enter a commodity code for shipping
If you would like a commodity code to be included for the shipping rate when this is automatically added as a line item for an order, send it to the Help Desk and they will set this up for you.
How to update products in bulk using a CSV file upload
If you want to UPDATE multiple products in one go using a CSV file, you just need 2 columns in the CSV file:
ProductCode - the web product code
CommodityCode
Click here for more details on how to bulk update existing products
How to integrate the commodity code with a field in your internal system/ePos
If you want to add the Commodity Code as a field in your systems integration, just add the field "CommodityCode" to the products export and populate it for each product in the CSV file.
Click here for more details on automating the upload of products from your internal system
Downloading order items with their commodity code
When managing new web orders, the downloads Order Items and Orders And Items include the Item_CommCode field which is the commodity code: