Google Ads is Google's online advertising program, the program allows you to create online ads to reach audiences that are interested in the products and services you offer. The AdWords platform runs on pay-per-click (PPC) advertising, i.e. you have to pay every time a visitor clicks your ad.
Google Ads can be a fantastic way to improve your brand reach, advertise new product ranges and promotions.
However we would strongly advise engaging a 3rd party PPC specialist unless you have the right skills internally as it is very easy to waste money on PPC campaigns unless they are set up and maintained properly.
For more information on Google Ads and setting up a Google Ads campaign please visit
https://ads.google.com/intl/en_ie/start/
Google Adwords Example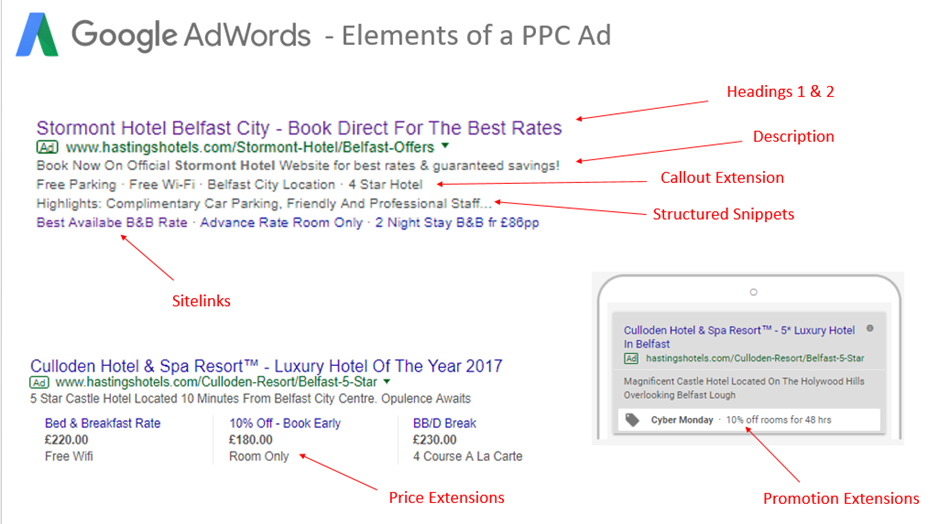 A Google Ad is typically made up of
2 x headings
1 description
and the following PPC Ad Extensions
Site link - gives users the option of landing directly on specific pages of your site
Callout - Promote what makes your business, products or services unique
Call- if your goal is to get users to call your business
Structured Snippet - highlight a specific aspect of the products and services you offer
Price - show your core products and services along with their prices
Location - drive people to your physical location
there are lots of other Ad extensions and Google continue to add to this list, refer to the Google Adwords website for more information
Google Ads Tips
Below are some tips when creating and maintaining your campaigns, again we strongly recommend engaging a specialist if you do not have sufficient experience in this area
Do extensive keyword research , use https://adwords.google.com/ko/KeywordPlanner/Home
Enable conversion tracking to measure sales and revenue
Review and research keywords regularly not just at set up
Include negative keywords (eg free, jobs )
Set up multiple ad groups with similarly themed keywords in each one
Minimum of 3 ads per ad group to test best behavior
Keep Search and Display campaigns separate
Googles own automated bidding e.g. Target CPA and ECPC tend to work well if you do not want to manually manage
What determines Ad Position
Maximum cost per click bid set per keyword
Quality score of the ad which takes into account things like clickthrough rate, ad relevance and landing page relevance