Growing your online business requires a 2 pronged approach:
Acquire new customers
Engage and Alert existing customers to bring them back to your website
Acquiring New Customers
Paid Search
To acquire new customers, you generally use Paid Search(Google Adwords and/or Social Media paid adverts etc), which means you effectively "buy new customers". Acquiring new customers is expensive but the key is to convert new customers into repeating loyal customers.
Cost of a new customer via Paid Search:
To work out the cost of acquiring a new customer, assume that your cost-per-click (CPC) is €0.50 - and that the conversion rate for customers who click through is 2.5% (i.e. 1 in every 40), this means that the cost to buy a new customer is €20.
Other ways to acquire new customers:
There are other free ways to acquire new customers and this generally happens naturally over time but can be a slower process.
- search via Google (organic non paid Google Listing)
- via Social Media (Facebook, Instagram, Twitter, LinkedIn, Pinterest etc)
- via Blogs (your own or via other blogs)
- in-store marketing of your website
ensure all store signage includes the online store address e.g. shop online at www.shop.com
consider flyers promoting discount for online purchases
ensure you are promoting the online store at point of sale
including the online store on your till receipts
advertise the online store on shop bags
consider using in store tablets that display the online store
including the store domain name on all communications including emails, letter heads etc)
- word of mouth as a result of a positive online shopping experience by customers
These are important activities that you must do but in our experience Paid Search is the most effective and quickest way to acquire new customers and generate immediate sales.
Engaging Existing Customers
Marketing to existing customers is a lot cheaper and a loyal customer base will generate revenue on an ongoing basis.
For example, if 50% of your new customers opt-in to receive further information about your special offers, sending an email to these customers might work out at €0.02 per customer - which is a lot more cost effective than the €20 above to buy a new customer.
There are lots of ways to engage with your existing customers:
Social Media (Facebook, Instagram, Twitter, LinkedIn, Pinterest), use the social media tools that are most relevant to your target market. Social media updates should be regular but also relevant to your customer
Email marketing, use email marketing to stay in contact with your customer but you should use this tool less frequently then social media
Leveraging the revenue potential of your existing customers:
The conversion rate of an existing customer will generally be higher then a new customer as they are familiar with your brand and trust your website. As a result their average order value tends to be higher which leads to overall higher revenue per customer then new customers.
Comparing New Customer Revenue with Existing Customer Revenue
As discussed above a new customer could cost you €20 to "buy" but marketing to existing customers is a lot cheaper at an example cost of €0.02 per customer.
Below is a comparison of the revenue potential of a new customer versus an existing customer.
New Customers

Number of visitors = 10,000
Conversion Rate = 1.5%
Average Order Value = €50

TOTAL REVENUE: 10,000 X 1.5% X €50 = €7,500

Existing Customers

Number of visitors = 10,000
Conversion Rate = 3% (assume twice as high as new customers)
Average Order Value = €60 (assume 20% higher than new customers)

TOTAL REVENUE: 10,000 X 3% X €60 = €18,000
So you can see that existing customers bring a higher revenue at a lower cost.
Alerting Existing Customers - Using Sales & Promotions
Keeping your customers engaged on an ongoing basis is good for continuous orders, you should also use the traditional sales/promotions times during the year to:
Achieve a large spike in revenue
Acquire new customers to boost your existing customer database
Get the most out of your existing customers and maintain their loyalty
Use a combination of countdown widgets, social media (frequently), email (less frequently) and SMS (special occasions) to alert customers of a sale. In our experience SMS can be a very effective way to announce a sale as it's more personal however we would advise using it sparingly to improve its overall effect.

What is a good Online Sale?
In our experience, in order to be effective you should offer a 20-40% discount on your site. A very aggressive sale is when you want to do a clearance sale of your old stock and would offer a 40-70% discount , this can be a very successful tactic.
What about my margin?
You don't have to give away all your margin in a 30% discount sale, as offering some products at say a 30% discount while most of the rest of your products are at a reduced discount can still be an effective sale as you use the 30% discounted products to bring the customers to your website and then make your margin on them purchasing other products as part of their basket.
How your Online Sales grow over time
The following diagram shows:
Your online revenue initially starts with existing customers already loyal to your brand - e.g. customers living local to your retail stores.
To boost this you start your Paid Search straight away with a daily maximum budget which acquires new customers and sales each week.
You will also achieve slow natural growth from new orders and new customers acquired through SEO, Blogs and Social Media.
Overtime both your existing customer revenue and new customer revenue will continue to increase, new customers will become existing higher order value customers and the cycle will continue.
During the year, you can increase the Paid Search budget for peak buying periods and/or run a sale (e.g. Black Friday, Clearance Sale, etc)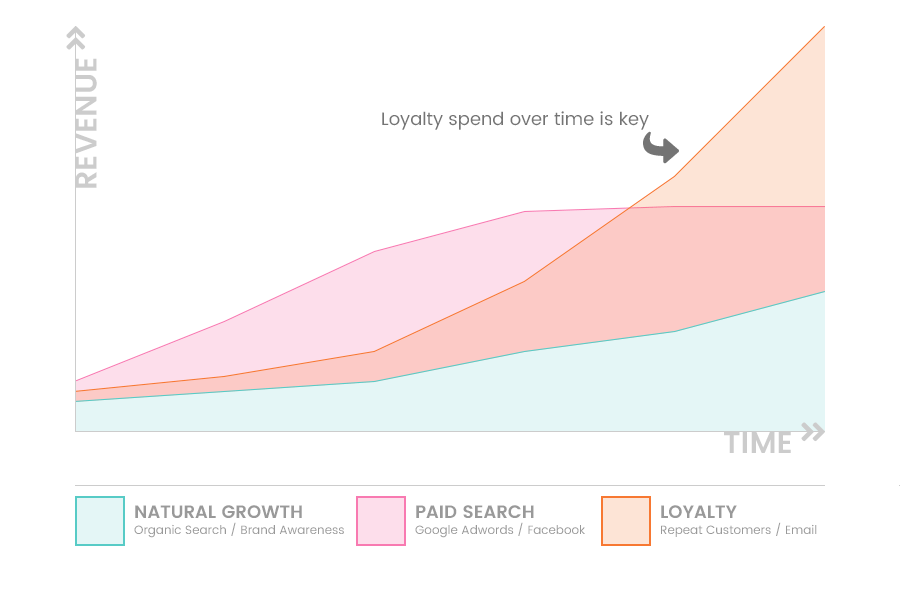 How to Convert Potential Customers
If your average conversion rate for both new and existing customers is 1.5%, this means that 98.5% of users don't make an order - so for 10,000 visits, you get 150 orders. However, if the average time spent on your website is 3 minutes, this still means that 9,850 potential customers browsed your site for 3 minutes which is great marketing and brand awareness - and is the reason why many retailers who have strong website traffic notice that there is a growth in customers in-store.
Converting Abandoned Baskets
Targetting the 98.5% unconverted customers is a tactic that can increase your conversion rate. For example, if you send an email to anyone who has abandoned their baskets during the checkout process with a link back to the website to complete their order, this can increase your conversion rate (note this is for customers who have entered their email address and checked the checkbox to opt-in for receiving emails from you).
If this increases your conversion rate from 1.5% to 1.65%, this will lead to a 10% increase in online revenue.
Excluding Bounced Customers in your Conversion Rate
AB Commerce's conversion rate is recorded differently to Google Analytic's conversion rate (see Conv Rate in image below). This is because AB Commerce excludes user visits who don't browse past the first page. These are called "bounced" customers as they are customers who once they review your home page felt that your website was not what they are looking for and leave.
Keeping Customers from Bouncing
Keeping customers on your website is important. If you find that 30% of your users are bouncing when they reach the home page, you need to investigate why and implement changes to reduce this bounce rate. Consider the following;
- is your Home Page representative of your business
- do you have effective call to actions on your banners
- do you advertise your USP eg free shipping, next day delivery, unique brands etc
- do you need to run a promotion to attract customers
- do you need to adjust your Google Adwords keywords or create more effective landing pages