If you have products that go with other products, you can add them to a product detail page so that the customer is offered the option to include them when adding to the basket. For example, the following is a product which has 2 add-on products available to purchase with it: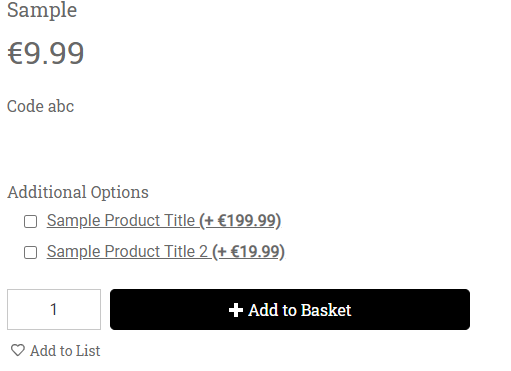 The additional options are hyperlinked into the product detail page for those products.
And if the additional options go out of stock or are made inactive, they will automatically not display in the above screen until they are back in stock.
How to set up add-ons for a product
To set up add-ons for a specific product:
Log in as web admin
Go to the product detail page for that product and click on Edit Product Content in the blue box
In the left side-bar, the following options are available:

You can change the default title from Additional Options in the screenshot above to any other title (e.g. "Complete the Look")
You can add up to 5 product or version codes for optional add-ons for this product