Trade customers can have their own private catalogue either showing a subset of the overall products and/or showing products specific to them. The following are the options available for this:
Which products to show
When updating a customer, under the TRADE tab, you will see the following options: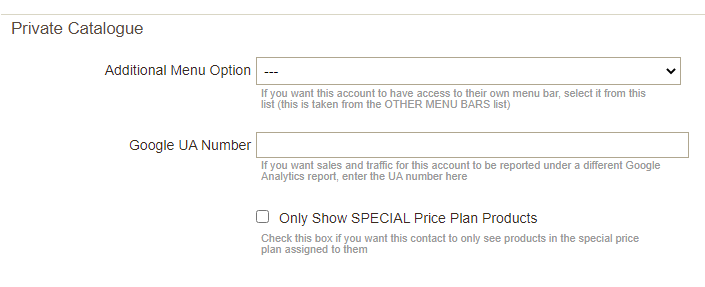 Additional Menu Option - you can create additional menu options under Catalogue - Categories & Navigation (contact the Help Desk to turn this on) and then assign one of them to a trade customer. When you do this, this menu option will appear at the very left of the menu bar as an additional menu option - which allows you assign products into specific categories that only this customer can see.
Google UA Number - if you want this account to appear in a different Google Analytics report, enter the Google UA Number here. Note that this will not include the customer going onto the website and logging in as we can't switch the Google Analytics reporting ID until they have logged in.
Only Show SPECIAL Price Plan Products - You can elect that the customer only sees products in the SPECIAL price plan assigned to them under the TRADE settings tab.
Only Showing Products specific to a customer
You may want to upload products that only a specific customer or group of customers can see. To do this, mark the product as Only Show When Logged In (under the UPDATE PRODUCT admin screen) and then assign the product to the customer through the price plans.