Each sales rep will have a button for FIND A CUSTOMER in their top menu bar:

When you select a customer, the following menu bar is available when viewing the website:

This shows which customer you have logged in as. You can view their dashboard, their orders, their lists and all other information under their account.
How to edit the customer's current basket
Trade customers have their baskets saved to their account - which means they can build up their basket and log off without losing their basket - and they can also log onto other devices to complete their order. Sales reps can click Use Customer Basket on their menu bar which will put a YELLOW BOX around their basket warning them that they are editing the customer's live basket (in case the customer is also logged in and adding to their basket).
How to put through an order on behalf of the customer
If the yellow box is not showing, then the sales rep can build up a basket and complete an order on the customer's behalf.
How to end customer session or switch to a different customer
Click Change Customer / End Session to end the current customer session + you can then find another customer through your sales rep menu bar.
The Sales Rep / Account Management Menu Options
You can also have your own orders, lists, out of stock list, etc. To see these, when you are logged in, you can hover over your name in the top right hand corner and the options will appear here.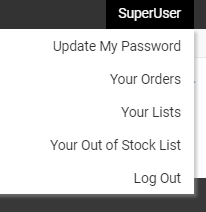 Your Orders - this shows you all orders for all your customer accounts
Your Lists - this allows you build up your own lists of products which you can either use to build up baskets quickly for your customers or to share out to customers so that they can build up their baskets quickly
Your Out of Stock List - this allows you build up a list of out of stock products so that you can monitor when they come back into stock again