The onsite Search report in Google Analytics (Behaviour > Site Search) is a very valuable report, because it helps you identify what your Customers are searching for on your website. Perhaps there is a brand they might like to buy from you that you don't currently stock, or an item that they are having difficulty finding on your website.
You can also use this report to help understand the extent to which users took advantage of your site's search function, which search terms they entered, and how effectively the search results created deeper engagement with your site.

In order to set this up in Google Analytics for your website, we recommend you follow these steps:
Log in to your Google Analytics
Go to the bottom left of your screen and click Admin
This will open your Admin view.
Navigate to the 'View' section on the right and click View Settings

Scroll to Site Search Settings
Toggle the on/ off slider to ON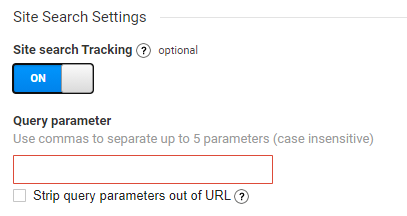 you will be asked to enter the Query Parameter for your website. This is the code in AB Commerce that identifies an On Site Search in the result URL, for example https://www.YOURWEBSITE.ie/search/keywords/?keywords=hairbrush
For AB Commerce websites, you should enter the following: keywords
At this point, you may also choose to tell Google Analytics to report on search result URLs differently going foward - i.e. you will use the Behaviour > Site Search report to see these results instead of the Behaviour > Site Content > All Pages report
To action this, select the checkbox Strip query parameters out of URL as per below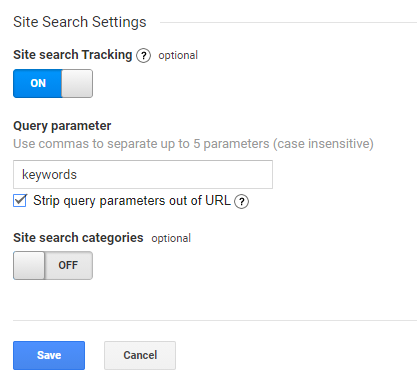 Click Save
Set yourself a reminder to come back and look at this data in one week to complete the test.