You have the option to turn on an order approval process so that certain orders can be put into a holding area order status until they are approved or cancelled by a specific person. To turn this on, contact the Help Desk. See the sample screen below showing the extra order status called Status - Submitted for Review - along with the View Audit link beside each order.
This feature will then be made available only to users who have been given special permission to view audit trails for orders.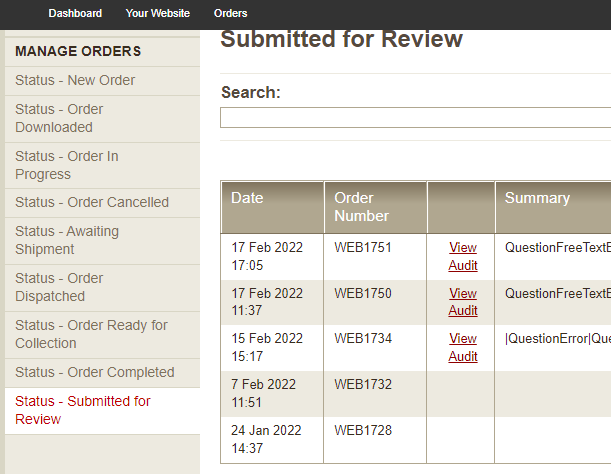 This person can either Approve or Cancel the order after viewing it's audit trail.
If you choose to cancel the order you will need to also cancel/refund the payment in the payment providers admin screens.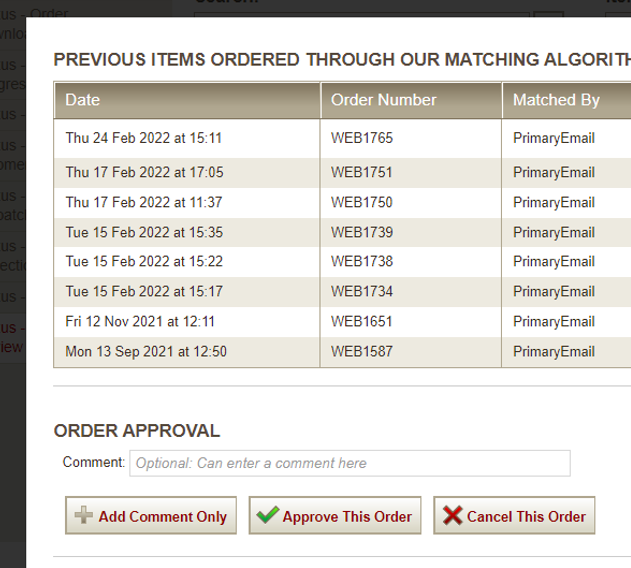 Adding Comments to Audit Report
The approver can also add comments to the audit report (e.g. after ringing the customer and documenting what the customer said).
What gets moved into the temporary status?
The following orders get moved into the temporary order status after they are made:
QUESTIONNAIRES: If a product required the user to fill in a questionnaire
RESTRICTED QUANTITY PRODUCTS: If an item in the order has a maximum quantity allowed.
TERMS ACCEPTED: If the customer had to accept terms before adding to basket.
Automated Email
A separate automated email can be sent to the customer for these orders. The approver can also be BCC'ed on this email. Or you can decide not to email the customer but just email the approver with a short text email stating "There is an order awaiting your approval".
It's important that no sensitive details are included in this email.
When the approver approves the order, then the customer will also get the New Order confirmation email.