To review an order complete the following steps:
Log into the site as a website admin.
Click ORDERS and the ORDERS sub menu option.
Under the relevant order status in the left sidebar, a listing of all orders at this status will appear.
Click Update next to the order:

In the Order Details tab the basic details about the order will be displayed, such as customer name, order date, order value etc: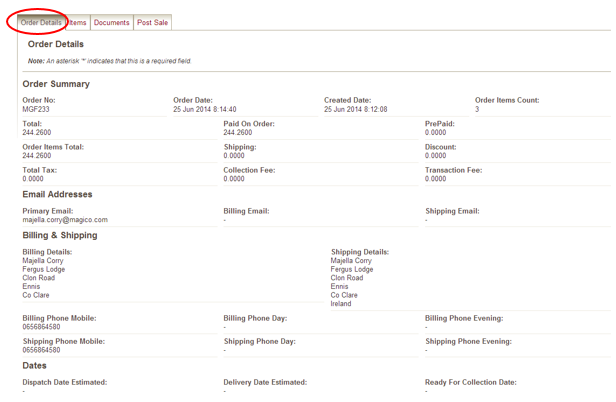 Click on the Items tab to see a listing of the items ordered:

Click on the Documents tab to see a listing of order documents that you can download (these are normally printed in bulk from the orders list).
Click on the Post Sale tab to see changes that you can make to the order such as changing order status, setting an order tracking reference (which can then appear on the automatic email that is sent out to the customer when the order status is changed to Order Dispatched), or setting dates for dispatch or collection (the order status is normally changed in bulk from the orders list – and these fields can be left blank it you want to keep the order fulfilment process quick).
Once you are finished reviewing the order click Cancel to exit the order review screen (or click Save if you have changed anything under the Post Sale tab that you would like to SAVE).