Click on video link to view:
Video https://www.youtube.com/watch?v=KWEsvHaJuWk

For multi outlet retailers looking to release an omnichannel strategy, AB Commerce offers a paid upgrade that provides the capability to display products that are available for Home Delivery and / or Click and Collect on the product list page.
Customers are also given the option to select 'Home Delivery' or 'Click and Collect' from the product detail page.
Customers also have the option to select their store of choice for Click and Collect Service and the number of units available in the store is displayed to the customer. This functionality gives more choice to the customer. They have the choice to shop online or visit your store to make a purchase. This functionality will form part of a strategic omnichannel approach for retailers who wish to enable it. If you are already integrating your stock levels with AB Commerce, to facilitate this functionality you just need to upgrade your current systems integration to feed individual stock levels for each of your outlets instead of one cumulative stock figure.
Contact helpdesk@magico.com to talk to a member of our team if this feature is of interest to you.
Products using Version Buttons
For products with no versions, we can display stock availability both on the list page and when the user goes into the product detail page.
However, for products that have versions, you need to click into the product detail page and select the version before the screen can display it's availability.
Before a version is selected, this is what is displayed: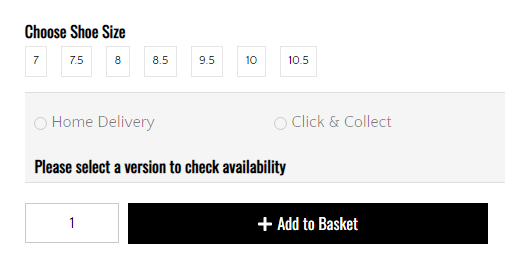 And after a version has been selected, this is what is displayed: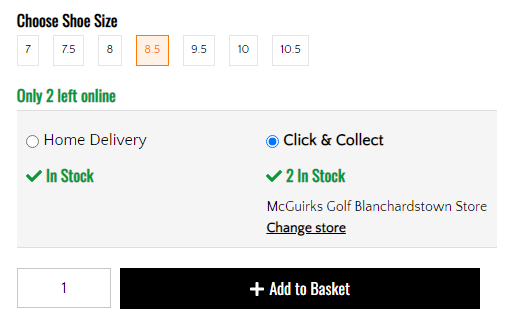 Products using Version Tables
For products that display versions in a table format, the following is what is displayed: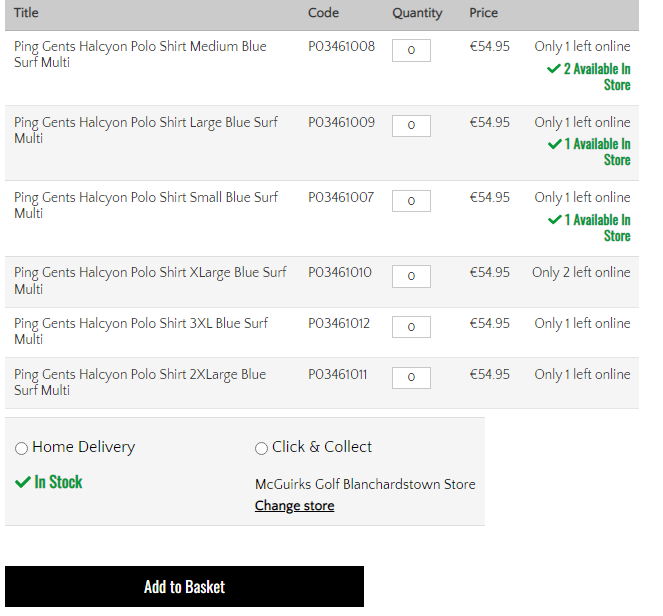 Displaying Quantities available in each store
When a user clicks on SELECT STORE or CHANGE STORE, the pop-up displays as follows showing the stores and the stock availability. Similarly, the stock levels are shown on the product detail page as in the example screens above.
You can decide if quantities are shown and if so, what is the max quantity shown - e.g. we can configure it so that if the quantity is above "3", we show "In Stock", and if the quantity is "3" or below, we show "3 In Stock".