For more complex products where the user can "build" the product making a number of selections, you can use the product configurator.  This allows you ask the user to select from a number of dropdown lists and/or enter some text values.  And depending on their selection, you can adjust the price upwards or downwards.
Where do you enter the product configuration?
When logged in as web admin and on the product detail page, just click EDIT PRODUCT CONTENT and scroll down the left side to this box: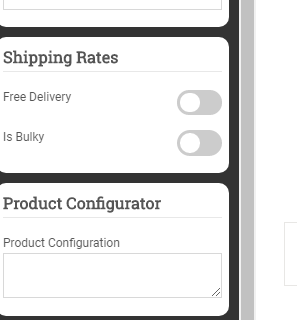 Use NOTEPAD and PREVIEW
The Product Configuration box above is very small so it's best to use NOTEPAD for building up your configurations and then copying and pasting it into the box above - and then clicking PREVIEW to see what it looks like before you decide whether to click SAVE or not.
Rules for the Configurator
For the product configurator, you enter a configuration field which is a large textbox where you enter a list of commands which are executed from the top down.
Special Characters: The following characters are special characters and cant be used in the display titles or codes: =,;+,-
Question Types: These can be DROPDOWN or TEXTBOX and you use the following formats:

Dropdown: This is a dropdown list of options
Textbox: This is a textbox which allows the user enter a value to enter
DROPDOWN: Display Title 
TEXTBOX: Display Title
Dropdown

Under this, you enter a separate line for each option using the following syntax:
Previous Codes (use + to seperate): OPTION: Display Title = Code = +/-price
Textbox

Under this, you enter a line showing the options that cause this to display and the change to price
Previous Codes (use + to seperate) = +/-price
ProductCode=ProductCode - Use this to tell the configurator to use a different product code when adding to the basket - ensure that this code does not exist elsewhere in the catalogue or else the product configuration wont work.  If you have integration with your ePos/ERP, ensure this code exists in the ePos/ERP.
CopyConfiguration=ProductCode - use this to tell the configurator to use the configuration from another product (allows you have 1 configuration that is then reused by other products)

Note that you can set a different product code above to override the configuration from the product that you are copying from

Title_Standard=StdTitle - if you would like to change the title on the standard tab, enter it here
Title_Custom=CustomTitle - if you would like to change the title on the custom tab, enter it here 
Example Configuration
The following is an example configuration which gives the user the option of building a custom golf club.  The first question is "Hand Choice". The next question will appear showing "Loft Choice" and will show options depending on what was selected for "Hand Choice".  The "8.5 Degree" option will add €2.50 to the price while the "9.5 Degree" option will deduct €1.50 from the price.  And if the user selects either 10.5 or 12 degrees, they can enter their name which will be printed on the club for an additional €3
ProductCode=A1234_Cust
DROPDOWN: Hand Choice
OPTION: Right Hand=RH
OPTION: Left Hand=LH
DROPDOWN: Loft Choice
RH+LH: OPTION: 8.5 Degree = 8.5D =+2.50
RH+LH: OPTION: 9.5 Degree = 9.5D =-1.50
RH: OPTION: 10.5 Degree = 10.5D
LH: OPTION: 12 Degree = 12D
TEXTBOX: Enter Your Name
10.5D+12D=+3
Example Configuration 2
The following copies the settings from another product with product code AB1234:
CopyConfiguration=AB1234